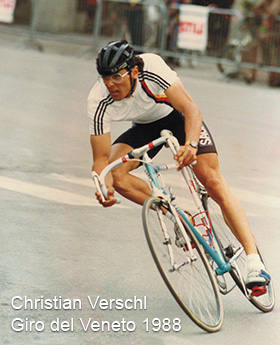 CICO © - The official chain spray of the Deutschland Tour 2022

How did it come about? Christian Verschl, co-owner of TRiooo Building Systems GmbH, had a problem while cycling in his spare time. The lubrication of the bicycle chain. Products available on the market could only satisfy him with their properties to a limited extent. His demands are very high. After all, he was German champion twice in the 80s and 90s and a member of the German national team in road cycling. Since TRiooo Building Systems GmbH deals with the development and marketing of innovative products, international contacts were sought and found.
With the US-American and chemist Dr. A. Herczeg and the German entrepreneur Rafal Wasniowski, two ideal partners were found after some time. In the 1980s, Dr. E. Herczeg developed a unique formula that became the basis for the lubrication of trams and has since been used successfully worldwide in rail and cable car transport. Based on this formula, a new high-performance chain spray has now been developed. Fully synthetic, free of mineral oil, PTFE and silicone. With the best additives. Manufactured, of course, in Germany.